European youth workers get games training in Tipperary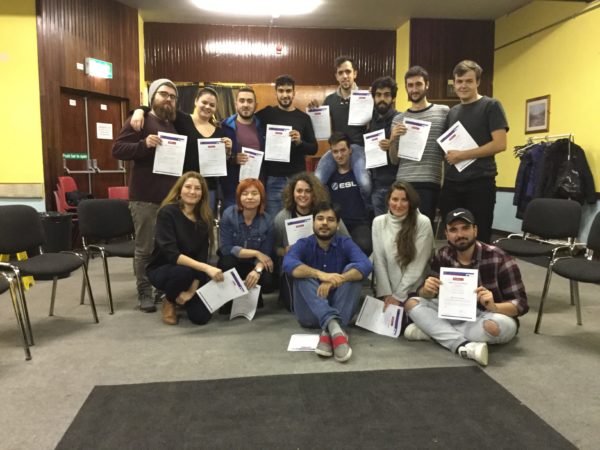 Tipperary Town Gardai Youth Diversion Project under Youth Work Ireland Tipperary were busy this month hosting a Seminar to train 37 youth workers from around Europe in the design and development of games in youth work practice. This was kindly funded through Erasmus + through a KA1- Learning Mobility of Individuals grant. The seminar hosted youth workers from Cyprus, Italy, UK, Romania, Greece and Ireland for one week exploring the idea of game design with the over-riding theme of Restorative Justice and Restorative Practice.
The seminar was a means in which youth workers from across Europe could utilize the potential of using games as a medium to bring about social change. The exploration of game design across a variety of mediums encompasses the strategies used by the Restorative Justice system where the harm caused when a crime is committed rather than the laws that have been broken are looked at. This lead to creative and innovative ways in which this can be applied within a youth work setting. It has been viewed that the use of abstract means can be a way to encourage participation to a greater extent when working with young people and to challenge and talk about the issues that may be arising for them in a non-threatening manner.
The week was a huge success with all enjoying the collaboration with their European partners. The week ended with young people getting involved on the last day to give feedback to the youth workers on the game designs that they had come up with during the week. In all it was a very successful week with everyone leaving with new resources they can bring back and use in their own practice and of course some great memories from Ireland. We would like to thank Erasmus + for the opportunity to host this Seminar and to the speakers Paul Keating and Adrian Fleming from LIT Tipperary, Sean Cooke – Restorative practice, John Lonergan – Former Governor of Mountjoy, Dr. Kieran O Dwyer – Restorative Justice in the Community, Ciaran Eaton – Tech Space and Cate O Connor from Youth Work Ireland Tipperary for making it such and informative and enjoyable week.