Infonomics Seminar 2023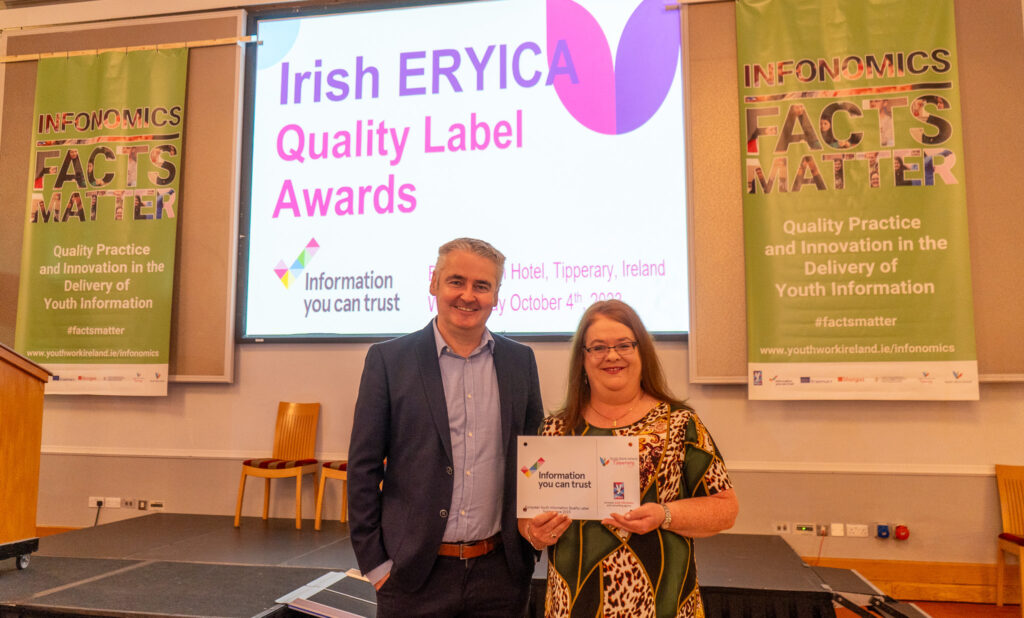 A seminar on Youth Information took place this week in Ballykisteen hotel hosted by Youth Work Ireland Tipperary, where 27 participants from across EU came together to discuss Youth Information, this Erasmus+ funded project included a 2-day conference for Youth Information workers to tackle the opportunities and challenges arising from AI and the metaverse. It also included a Gala Dinner to present the Quality Label to 8 information centres in Ireland including the hosts in Tipperary and this was the first in Europe. The full Board of ERYICA also arrived in Tipperary to hold their board meeting on site and give weight to the importance of the event.
· Infonomics, a two-day conference in Tipperary, brings together Ireland's Youth Information network to discuss the importance of investing in quality information that young people can reliably access
· Experts from across Ireland and Europe explore and respond to digital innovations in AI and the metaverse, as well as hate speech and extremist online content
An international conference in Tipperary has explored how youth information workers can deliver high quality information in the midst of unprecedented technological innovations in artificial intelligence.
As well as digging into areas around hate speech, extremist content online, fake news, misinformation and how AI is changing the digital landscape, experts at Informatics will also detail the changing landscape of youth information in Europe as well as providing analysis around digital innovations such as Ireland's National Youth Information Chat Service which provides a free service in the evenings across the country giving a "Digital Door" to access youth information professional staff who support and answer questions for young people.
Speaking about Informatics, Patrick Burke, CEO of Youth Work Ireland, said that, "Infonomics – Facts matter Conference is timely. While misinformation, disinformation, fake news and propaganda have been a constant in the history of humankind, social media, artificial intelligence and other technological advancements made these kinds of information much more pervasive.
"Now more than ever, the State needs to strengthen and grow the youth information sector in Ireland so that our young people can be supported to access reliable information on which to make good decisions for their lives," Burke added.
Speaking about the importance of Infonomics, Roderic O'Gorman, Minister for Children, Equality, Disability, Integration and Youth of Ireland, said, "Access to reliable information is essential in the modern age. In particular, young people require access to high quality information to make informed decisions in their own lives. The Infonomics Conference promises to deliver valuable insights into how we can improve youth information provision."