X-HALE 2016, Irish Cancer Society
This year, during my short time working as a Community Youth Worker, I had the privilege of working with the 'Monday Messers'. The Monday Messers were a group of young people in 6th class, who like the name states, met on a Monday and loved to Mess!
The young people this year were recognised for taking part at the Irish Cancer Society X-HALE Youth Awards 2016. This is because of the many weeks of hard work they put into making a short movie called 'Fags are Manky'. The young people worked with local film maker, Will Nugent, who edited the short film. He gave valuable guidance and support throughout the process. The group's short film was showcased at the recent event in the Lighthouse Cinema in Smithfield. Over 300 young people came together to showcase their anti-tobacco films and projects which they have created to contribute towards establishing Ireland's first smoke-free generation.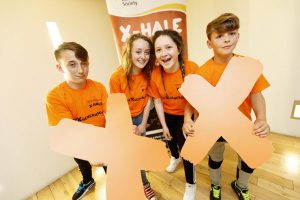 It was so amazing to work with these young people, and to see the leadership and teamwork skills that came to light while working together throughout the project. While we may not have taken home first place, this project definitely had a profound impact on the young people. By taking part in this project, our young people have been empowered to work towards reducing smoking among their generation. They did this by raising awareness about the dangers of smoking and encouraging their peers to be smoke free. Since it started, the X-Hale Youth Awards has had over 1,000 young people attend the annual event, and young people accross the country have had over a quarter of a million views on the short movies and projects online!
This is the sixth year of the X-HALE Youth Awards which began in December 2010 when the Society invited applications from youth groups from all over Ireland for funding under the scheme. Since it began, the Society has invested approximately €130,000 in support of youth groups accross the country to tackle smoking.
You can watch all of this years entries here www.cancer.ie/xhale2016
Aoife Ryan – TAR Project